Freehold: The Monmouth County Sheriff's Office law enforcement vehicles are donning a new theme and adding a new color to its fleet. In addition to fighting crime while out on the roadways, the sheriff's office is also supporting the fight against breast cancer. The agency's vehicles are now marked with pink magnetic ribbons, as part of Breast Cancer Awareness Month.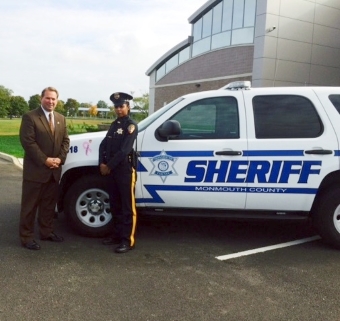 "It's vital to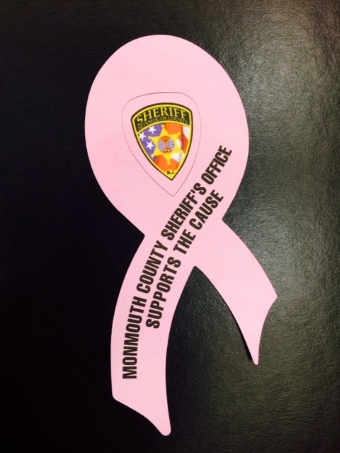 show our support to such a serious illness and bring awareness to this important cause," said Sheriff Shaun Golden. "Most people are either indirectly or directly affected by this devastating disease and we are proud to reinforce the message of supporting the fight."
The Monmouth County Sheriff's Office is the first law enforcement agency in Monmouth County to acknowledge the cause on its police vehicles. Other agencies in New Jersey are wearing pink baseball caps, tee shirts or have pink badges to recognize the cause. In other states, vehicles have been painted pink.
"Whatever way we choose to acknowledge the month, it's important for law enforcement to stand behind this effort in support of all the courageous people who are battling the disease, have lost their lives or lost loved ones," said Sheriff Golden.
According to the American Cancer Society, it's estimated that 232,670 new cases of breast cancer will be diagnosed in women this year. Breast cancer is the second leading cause of cancer death in women. There are more than 2.8 million breast cancer survivors in the United States.
/wp-content/uploads/2015/12/Monmouth-County-Sheriffs-Office.png
0
0
Monmouth County Sheriffs Office
/wp-content/uploads/2015/12/Monmouth-County-Sheriffs-Office.png
Monmouth County Sheriffs Office
2014-10-15 12:25:38
2014-10-22 14:23:17
MONMOUTH COUNTY SHERIFF'S OFFICE SUPPORTS BREAST CANCER AWARENESS