The Monmouth County Sheriff's Office and representatives of the Brain Injury Association of New Jersey BIANJ travel to local schools to teach students about the importance and appropriate use of bicycle helmets. As part of a partnership between the Sheriff's Office and BIANJ, fifth grade students at participating schools will also be asked to join in a creative writing and art poster contest that reinforces the key messages of the campaign.
Over 250 students will receive free bicycle helmets for creative submissions.
Click on the bike to learn about the Sheriff's "Safety Bike"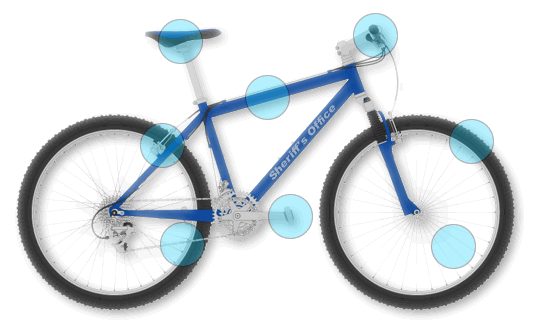 Parts of Sheriff's Safety Bike
Make sure your bike is the proper size. A bike that is too big or too small will be hard to control. When you're standing on the ground you should have a 1 – 3 inch gap between you and the top bar. You'll need more room if you're riding a mountain bike.
Check to see if your bike seat is adjusted to the proper height. When you're sitting on the seat with your foot on the pedal, your leg should be slightly bent. This will help avoid knee strain.
Make sure you have a reflector on the front and rear of your bike. The rear should be red and should be at least three inches across. Make sure the reflector is pointed straight back to reflect the headlights of cars that are coming up behind you.
Check the bike's chain to make sure it's clean and lubricated. If it's not, take it to the local bike shop for a check up.
Check your brakes for even pressure. They should make your back wheels skid on dry pavement, but you don't want the brakes to stick.
Every time you ride, make sure your tires are properly inflated.
Keep your feet firmly planted on the pedals. You should try to keep the pedal in the center of the bottom of your foot. If the pedal is not centered, your foot may possibly slip off.