Monmouth County: Sheriff Shaun Golden is pleased to announce the graduation of 59 law enforcement officers from the 87th Basic Course for Police Officers who took the oath of office on Dec. 11 at Neptune High School's Performing Arts Center.
"By successfully completing this training, these fine men and women have demonstrated their commitment to law enforcement," said Sheriff Shaun Golden. "That is a great privilege, since there is no higher responsibility, than preserving public safety. I commend all for a job well done."
The Basic Course for Police Officers is a 20 week program with 780 hours of training run through the Monmouth County Police Academy. Upon completion they are well trained and well prepared to serve their respective law enforcement agencies.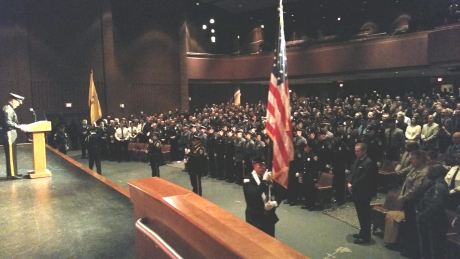 "You are ready to embark on a career in public service and I humbly thank you for making the choice to serve others," said Freeholder Director Lillian G. Burry who presented the graduation address. "The true value of public service is not readily apparent. It is more than each beat that you walk and each shift you complete. It is your reputation, your integrity, your life."
Undersheriff Robert Dawson, Police Academy Training Officer Thomas Collow, Chief John Powers, Aberdeen Police Department and First Assistant Prosecutor Marc LeMieux presented the graduates with their certificates.
"Through their dedication and hard work we can be rest assured that these graduates will serve our residents and communities, as they begin successful careers in law enforcement," said First Assistant Prosecutor Marc LeMieux.
Awards for the 87th Basic Course for Police Officers were presented to: Sean P. Sullivan, Alternate Route for the Academic and Traffic Officers Association Awards. Gerald J. Sarno, South Brunswick P.D. for the Marksmanship Award, Adam Mattei, Marlboro Township for the Physical Training Award and James A. Lasky VI, Freehold Township for the Merit Award.
87th Basic Course for Police Officers
Abrahamson, Joshua M. Marlboro Township; Ayala, Oscar R. South Brunswick; Besner, Robert E. South Amboy; Brandt, Anthony T. Monroe Township; Brodniak, Brittney Middlesex County Sheriff; Cacciatore, Michael J. Wall Township; Ciacciarelli, Gabriella M. Alternate Route; Cleffi, Craig M. South Brunswick; Degroat, Christopher N. Keyport Engelbrecht, Sr., Chris W. Sayreville; Friscia, Joseph M. Union Beach;Gallipoli, Dominic Middlesex County Sheriff; Geisel, Stephanie Middletown Township; Gentile, Iii, Joseph F. Monroe Township; Gerena, Sue Ellen Middlesex County Sheriff; Ghafoor, Mohammad A Middlesex County Sheriff; Gould, Daniel V. Marlboro Township; Gregg, Richard J. Freehold Township; Halmi, Martin J. South Brunswick; Hassmiller, Robert J. Keyport; Hayes, Steven Freehold Township; Kenny, Matthew J. Sayreville; Kilgore, Jr., Keith L. Middlesex County Sheriff; Kramer, Jr., Marc J. Middlesex County Sheriff; Lasky, Iv, James A. Freehold Township; Leonard, Patrick R. Middletown Township; Lowe, Ryan C. Howell Township; Mattei, Adam E. Marlboro Township; Mccalla, Jr., Errol North Brunswick; Mcdougall, Jessica E. Aberdeen
Melanson, Zachary S. South Plainfield; Michals, Matthew A. Middlesex County Sheriff; Miranda, Alexander G. South Amboy; Nodine, Jason P. Freehold Township; O'brien, Iv, Darby F. Plainsboro; O'grady, Dane P. South Amboy; O'neill, Kevin M. South Brunswick; Ortiz, Jasen S. South Plainfield; Pesany, Jospeh S. Middlesex County Sheriff; Pirigyi, Michael G. Middlesex County Sheriff; Pizzillo, James P. Sayreville; Ponomarev, Nicholas R. Alternate Route; Pronin, Ostap Monroe Township; Rask, Robert T. Alternate Route; Redmond, Andrew J. Bradley Beach; Rodewald, William C. Middletown Township; Rodrigues, Bryan Middlesex County Sheriff; Rodriguez, Daniel J. South Brunswick; Sarno, Gerald J. South Brunswick; Scherbinski, Heather E. Howell Township; Smith, Sean M. Union Beach; Sullivan, Sean P. Alternate Route; Taylor, Jeffrey C. Sayreville; Torres, Anthony Middlesex County Sheriff; Ullom, Brandon K. Plainsboro; Wang, An S. South Amboy; Weeks, Erica K. Middletown Township; Whittaker, Lemar D. Asbury Park; Wu, Jonathan J. Middlesex County Sheriff
News Release Monmouth County Police Academy Graduation Dec 11
/wp-content/uploads/2015/12/Monmouth-County-Sheriffs-Office.png
0
0
Monmouth County Sheriffs Office
/wp-content/uploads/2015/12/Monmouth-County-Sheriffs-Office.png
Monmouth County Sheriffs Office
2014-12-11 15:02:42
2014-12-11 15:04:44
POLICE RECRUITS GRADUATE AND EMBARK ON A CAREER IN LAW ENFORCEMENT