The Monmouth County Sheriff's Office is sending a message out that it needs the public's help in combating crime, and hopes to get a message back, via text. Through the agency's new initiative, people can report a tip about suspicious behavior in an easier and more convenient way than ever before, anonymously, at anytime from anywhere, by text messaging.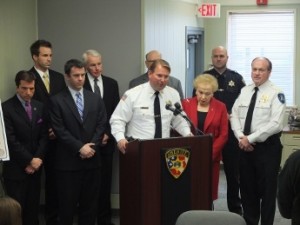 "In an effort to fight crime continuously and effectively in Monmouth County, we need the public's input when it comes to reporting suspicious activity," said Sheriff Shaun Golden. "The new tip line will help do that since people can now communicate directly and anonymously, without the fear of identification or retaliation. This is a law enforcement/community partnership to maintain public safety."
The text messaging tip line, which is installed in the law enforcement division of the sheriff's office, allows people with a cell phone to immediately access the tip line with no questions asked. People should still call 911 to report a crime in progress. However, to report a tip or suspicious activity, people simply need to enter the number 67283 into their cell phones. They can text their info with the word MONTIPS included in the body of the message. The tip is immediately transmitted to a PC and an officer will be notified by an alert that a tip was texted, which will then result in an appropriate response.
Should additional information be needed, an officer can send a message back without seeing the cell phone number, making it an anonymous approach to fighting crime. "We need this type of technology to move forward in the fight against crime in the Neptune Township, Asbury Park area," said Chief Robert Adams. "I'm hopeful the ability to text a tip will encourage the younger population to get involved, since they can make a significant difference in this new approach to crime reporting with anonymity." "This measure can help enhance the safety of our students after school," said David Mooij, Superintendent of Neptune Township Schools. "They are often the eyes and ears as to what is happening around them, and, can now report a tip or suspicious activity, with no questions asked."
Posters announcing the text a tip line will be placed in store fronts and community and recreation centers throughout Monmouth County to make people aware of this approach toward crime fighting. "I commend the sheriff's office for taking this huge step forward in asking for the public's input," said Douglas Eagles, Director of the Boys and Girls Club of Monmouth County. "It's vital that law enforcement and the community have open lines of communication, which not only helps fight crime but builds trust between the two." "This is an excellent effort to help keep our communities safer," said Freeholder Lillian Burry, Liaison to the Monmouth County Sheriff's Office. "It makes sense for the sheriff's office to be on the receiving end of the text message tip line, since the agency answers 9-1-1 calls for numerous municipalities, in addition to providing police, fire and EMS dispatch."
The sheriff's office is the first law enforcement agency in Monmouth County to have the text message tip line. It is monitored 24 hours a day 7 days a week. "This tip line is a great initiative towards decreasing crime in Monmouth County," said Acting Prosecutor Christopher Gramiccioni. "Quite often it's the residents of our communities who have information that is vital towards solving a crime or in some cases preventing criminal activity."
"I'm hopeful that people throughout Monmouth County will seize this opportunity, particularly young adults and teenagers, where text messaging is a top form of communication," said Sheriff Golden. "Knowing that they can safely come forward protects them and could prevent other crimes or acts of violence from occurring."
/wp-content/uploads/2015/12/Monmouth-County-Sheriffs-Office.png
0
0
Monmouth County Sheriffs Office
/wp-content/uploads/2015/12/Monmouth-County-Sheriffs-Office.png
Monmouth County Sheriffs Office
2013-04-12 14:35:39
2013-11-14 12:22:58
Sheriff Unveils New Text Message Tip Line In Latest Effort To Combat Crime