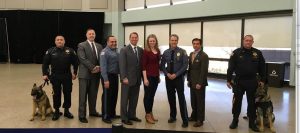 West Long Branch: Monmouth County Sheriff's Office K-9 teams can increase their safety while combatting crime thanks to Monmouth University's Alpha Phi Sigma's Criminal Justice Honor Society. On March 8, the honor society held its 5th annual Paws for a Cause event at Monmouth U which raises money for a K-9 bullet proof vest.
"The Monmouth County Sheriff's Office is grateful to Alpha Phi Sigma for their continued dedication to this cause," said Sheriff Shaun Golden. "Our K-9 teams deal in narcotics and explosives detection as well as suspect apprehension and it's crucial that they are protected while maintaining public safety."
K-9 teams of the Monmouth County Sheriff's Office K-9 Unit participated in the event where each officer spoke about their K-9's specialty as well as performed a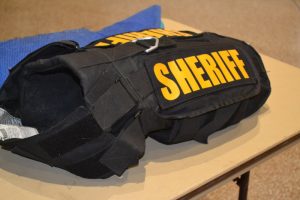 demonstration.
In 1997, the Monmouth County Sheriff's Office lost one of its own, K-9 Solo. Solo, a German shepherd, was shot during an attempted apprehension of a wanted individual.
The MCSO K-9 Unit presently consists of 7 handlers and 8 K-9s. The unit includes 2 explosive/patrol teams, 3 narcotics/patrol teams, 1 explosive team, 1 tracking team and 1 narcotics team.
In 2016, the K-9 Unit was called out on 145 explosive detection calls, 330 tracking calls and 311 narcotics calls.
Alpha Phi Sigma has generously raised several thousand dollars for the K-9 Unit throughout the years. If an individual would like to make a donation to the MCSO's K-9 Unit, all checks need to be made payable to the Monmouth County Treasurer, Hall of Records – 1 East Main St., Freehold, N.J. 07728, with a letter indicating the funds are for the MCSO K-9 Donation Fund.
For a downloadable version of this press release, click here: News-Release-MCSO-Honor-Society-From-Monmouth-U-Hold-Fundraiser-to-Keep-K-9s-Out-of-Harms-Way
https://www.mcsonj.org/wp-content/uploads/2017/03/vest.jpg
533
800
Monmouth County Sheriffs Office
/wp-content/uploads/2015/12/Monmouth-County-Sheriffs-Office.png
Monmouth County Sheriffs Office
2017-03-09 15:45:17
2017-03-09 15:45:17
Sheriff's Office And Honor Society From Monmouth University Hold Fundraiser To Keep K-9's Out Of Harm's Way