A man wanted for attempted murder and robbery out of Fresno, California is sitting in the Monmouth County Correctional Institution awaiting extradition. The Monmouth County Sheriff's Office was contacted by authorities out of Fresno on Thursday, March 19, regarding Cauro Sanchez. Less than 24 hours later, on March 20, two sheriff's officers, with the assistance of the Asbury Park Police Street Crimes Unit and members of the Monmouth County Prosecutor's Office, had Sanchez behind bars.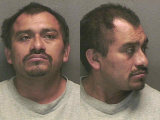 Sanchez, 35, who was arraigned by Hon. Anthony J. Mellaci in Freehold on Monday, was wanted by Fresno authorities for robbing and shooting a woman in the face at a convenience store on March 9. Fresno police believed Sanchez had ties to New Jersey after discovering an ID card with an Asbury Park address. After the Monmouth County Sheriff's Office was contacted, Sheriff's Officers Sean O'Neill and Henry Muller discovered that Sanchez had an active non-support warrant in Monmouth County along with criminal and traffic warrants out of Freehold Township. Interviews and leads led the officers and members of the Asbury Park Police Street Crimes Unit to 708 Fourth Avenue in Asbury Park, where a car with California plates was parked in the driveway. Sanchez was inside the apartment and arrested. "This is a prime example of exceptional police work from coast to coast," said Sheriff Kim Guadagno. "I commend everyone involved in putting this dangerous criminal behind bars. An arrest like this helps keep our residents and neighborhoods safe."
Sanchez was charged with being a fugitive from justice with bail at $750,000, hindering apprehension with bail at $10,000, failure to pay child support, along with other charges out of Freehold Township. Sanchez is in the United States illegally and is also being held on an Immigration and Customs enforcement detainer.
For more information contact Undersheriff Cynthia Scott at (732) 577-6613.
/wp-content/uploads/2015/12/Monmouth-County-Sheriffs-Office.png
0
0
Monmouth County Sheriffs Office
/wp-content/uploads/2015/12/Monmouth-County-Sheriffs-Office.png
Monmouth County Sheriffs Office
2009-03-23 10:57:14
2014-12-03 08:52:28
SHERIFF'S OFFICE ARREST FUGITIVE FROM FRESNO,CA