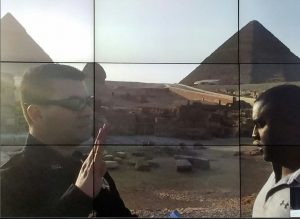 Freehold: It's always an honor for members of law enforcement to be sworn in, as they rise through the ranks. On Feb. 28, it was Sheriff Shaun Golden's honor to assist in administering the oath of office to Sgt. Wagner Moreno, who is deployed overseas in the Middle East, via Skype.
"As Monmouth County Sheriff, I'm proud to have this unique opportunity to assist in administering the oath of office to Sgt. Wagner Moreno, while actively serving his country. He is a dedicated law enforcement officer and highly regarded member of the United States Army," said Sheriff Shaun Golden. "We look forward to Sgt. Moreno's safe return home and not only thank him for his service, but his family as well, who has been separated from their loved one since last November."
The event, which was held at the Monmouth County Sheriff's Office, took some planning. Sgt. Moreno's law enforcement uniform was shipped overseas and a date and time had to be worked out with the commander. Once the Skype swearing in occurred, members of law enforcement and family proudly watched as the sergeant recited his well deserving oath.
"While it's not easy to be away from my family, it is an honor and privilege to serve my country," said Sgt. Moreno.
"I thank all who made this special day possible and look forward to a safe return home, where I will continue to work with my fellow members of law enforcement in protecting the public."
Sgt. Moreno has been a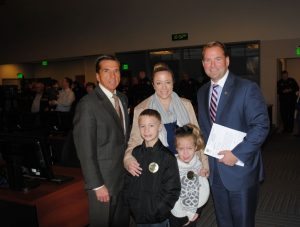 member of the armed forces since 1995 and is a pilot in the U.S. Army where he currently serves as a chief warrant officer. He began at the sheriff's office in 2000 and has been deployed three times during that time. Throughout the years, Sgt. Moreno worked in courthouse security, transportation and warrants before being transferred to the criminal investigation bureau, where he is presently a detective and works on various assignments.
This is the first time an officer has been sworn in overseas via Skype at the agency. In addition to Sgt. Moreno's promotion, Lt. Pete Cuevas, Lt. Elijah Moore and Sgt. Stacey Grasdorf were recently promoted at the Monmouth County Sheriff's Office.
For a downloadable version of this press release, click here: News-Release-MCSO-Holds-Special-Swearing-In-Ceremony-for-Sgt.-Deployed-Overseas
https://www.mcsonj.org/wp-content/uploads/2017/03/Sgt.-Swearing-In-1.jpg
882
1209
Monmouth County Sheriffs Office
/wp-content/uploads/2015/12/Monmouth-County-Sheriffs-Office.png
Monmouth County Sheriffs Office
2017-03-02 11:46:57
2017-03-02 11:49:18
Sheriff's Office Holds Unique Ceremony For Sergeant Who Was Promoted Overseas