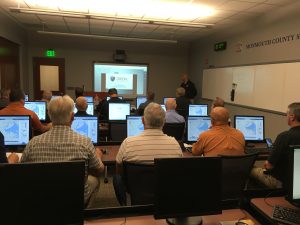 Monmouth County: In a continuing effort to enhance capabilities and partnerships with veteran's organizations, Sheriff Shaun Golden is incorporating TEAM Rubicon, into the Monmouth County Sheriff's Office, Office of Emergency Management's (OEM), plans. TEAM Rubicon, is an organization made up of mostly veterans who assist those affected by disasters.
To improve response and recovery of disasters and emergency situations, Team Rubicon along with members of the Monmouth and Ocean County Building Officials Association, attended a training seminar at the Public Safety Center in Freehold on September 21.  The focus was on damage assessment and the utilization of a new software system to record and track the damages caused by a disaster.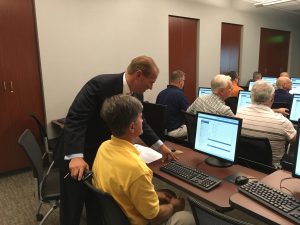 "We continually recognize the valuable resources veteran's organizations offers to law enforcement and emergency operations. As a result, it's vital we engage in partnerships with   organizations such as TEAM Rubicon," said Sheriff Golden. "The addition of Team Rubicon into OEM's resource plans will allow for expanding support to the residents, businesses and visitors of Monmouth County. Another key benefit to partnering with Team Rubicon is that the services they provide are free to impacted communities, thus reducing the economic impact disasters have on our budgets."
The Team Rubicon mission is to unite the skills and experience of military veterans with first responders to rapidly deploy emergency response teams. The training held is a major step towards building a collaborative and cooperative relationship with veteran's organizations and  a part of Sheriff Golden's Veteran's Emergency Training Services, V.E.T.S,  initiative, expected to be unveiled in October.
For a downloadable version of this press release, click here:  News-Release-MCSO-Partners-with-Vets-Organization-to-Assist-in-Disaster-Recovery
/wp-content/uploads/2015/12/Monmouth-County-Sheriffs-Office.png
0
0
Monmouth County Sheriffs Office
/wp-content/uploads/2015/12/Monmouth-County-Sheriffs-Office.png
Monmouth County Sheriffs Office
2016-09-22 11:09:04
2016-09-22 11:09:04
Sheriff's Office Partners With Vets Organization to Assist in Disaster Recovery