Freehold: Sheriff Shaun Golden is proud to announce that the Monmouth County Correctional Institution recently completed an unannounced inspection by the New Jersey Department of
Corrections and was acknowledged for being 100 percent compliant with state standards in 2020.
The annual review consists of a comprehensive study, which encompassed all areas of the facility, and, was conducted by two state auditors from August 26 – September 1.
"This grade of excellence reaffirms the fact that the Monmouth County Correctional Institution operates under the highest of standards and continues to meet or exceed the state requirements
set forth to run this top correctional facility," said Sheriff Shaun Golden.
More than 600 standards were reviewed at the Monmouth County Correctional Institution, which is a direct supervision jail. The facility houses county, state and federal inmates. The team of auditors toured the entire jail and examined standards such as security, medical, personnel, fiscal management, planning, design, access to courts, food services, sanitization, searches, admissions, mail, inmate services, disciplinary procedures and property control.  As part of the inspection the team also interviewed staff and inmates.
The inspection is mandated annually by the state. In 2019 the facility was also 100 percent compliant.
"I commend this team effort led by Acting Deputy Warden Victor Iannello and Executive Undersheriff Ted Freeman, along with staff for their commitment to excellence and for making this achievement possible," said Sheriff Golden.
In addition to being state certified, the Monmouth County Correctional Institution is nationally accredited by the American Correctional Association and the National Commission on Correctional Healthcare.
For a downloadable version of this press release, click here:  News Release – Monmouth County Correctional Institution Receives Highest Mark on State Inspection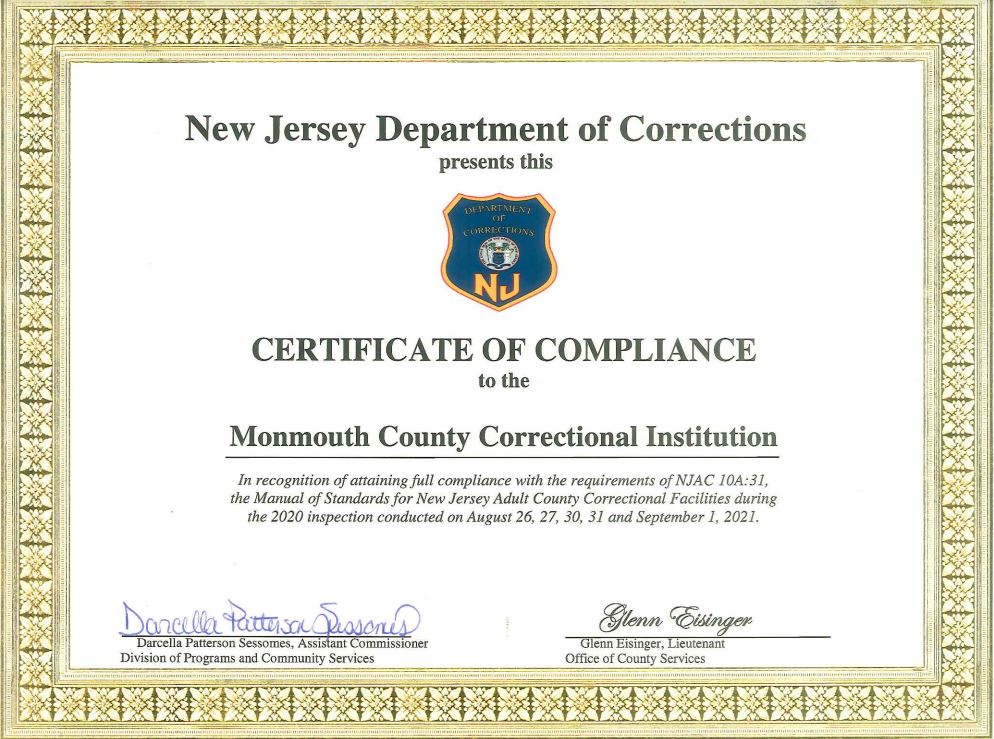 https://www.mcsonj.org/wp-content/uploads/2021/09/MCCI-2.jpg
739
994
Monmouth County Sheriffs Office
/wp-content/uploads/2015/12/Monmouth-County-Sheriffs-Office.png
Monmouth County Sheriffs Office
2021-09-15 13:33:26
2021-09-15 13:36:46
Monmouth County Correctional Institution Receives Highest Mark on State Inspection