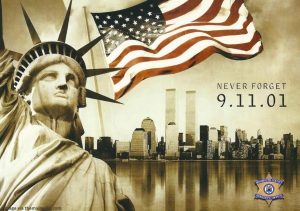 Monmouth County: As we all remember and honor the lost, the survivors and the many heroes of the September 11th attacks, the Monmouth County Sheriff's Office has been, and will remain, on heightened alert in preparation for the 16th anniversary on Monday.
"September 11th is a day of remembrance and reflection for our country," said Sheriff Shaun Golden. "Although there are no known threats at the present time, as always, our Law Enforcement Division will be working closely with local law enforcement agencies to take whatever steps are required to ensure the safety and security of the people who live and work in Monmouth County, as well as those who may be visiting."
The Monmouth County Sheriff's Office conducts homeland security checks at critical infrastructures throughout Monmouth County on a regular basis. During the 16th anniversary of 9/11, law enforcement will have a greater presence and heightened vigilance. The sheriff's office will be supplementing local police patrols at various locations, including ferry terminals and other major transportation hubs. In addition, the sheriff's office K-9 teams will be sweeping ferry terminals and train stations, as well as major 9/11 remembrance observances, as requested. Sheriff's Marine #1 will also be out patrolling the waterways and conducting homeland security checks throughout the day.
The Monmouth County Sheriff's Office asks that people remain vigilant and report any suspicious activities to the local authorities on this annual day of remembrance as well as every day.
For a downloadable version of this press release, click here: News-Release-Sheriffs-Office-to-Enhance-Patrols-for-the-Anniversary-of-Sept.-11
https://www.mcsonj.org/wp-content/uploads/2017/09/9_11_01.jpg
422
600
Monmouth County Sheriffs Office
/wp-content/uploads/2015/12/Monmouth-County-Sheriffs-Office.png
Monmouth County Sheriffs Office
2017-09-08 10:20:02
2017-09-08 10:23:14
Sheriff's Office to Enhance Patrols for the Anniversary of September 11th