The Monmouth County Sheriff's Office is stepping up efforts to ensure children's safety while riding in car seats by unveiling the W.H.A.L.E. (We Have A Little Emergency) Program. W.H.A.L.E. provides vital medical information placed on children's car seats in the event of an accident. "In these tough economic times, we have to build relationships with the private sector to protect the most vulnerable in our county, our children," said Sheriff Kim Guadagno. "Today, we announce a public-private partnership in our W.H.A.L.E. program that will save valuable time and quite possibly a life." The Monmouth County Sheriff's Office combined its child safety seat program, which is funded wholly by state and federal grants, with a contribution from CentraState Healthcare Foundation to operate W.H.A.L.E.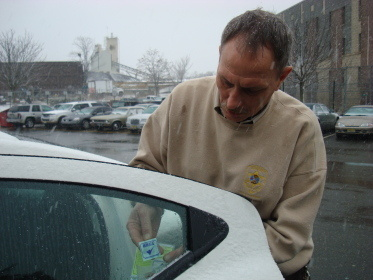 If a parent or guardian becomes incapacitated during an accident, first responders have no easy way of identifying a child or knowing if he/she has an existing medical condition. W.H.A.L.E. changes that by providing medical conditions, emergency contact numbers and the identity of a child. "In 2008, CentraState's Emergency Department treated 159 children under the age of 16 who were in a car accident," says Vatsala Bhaskar M.D., Pediatric Emergency Medicine, CentraState Medical Center. "Children in a car accident usually experience anxiety and fear and cannot communicate well even if they are old enough to speak. The W.H.A.L.E. Program will help speed up proper medical treatment for helpless children who sometimes also suffer medical conditions such as diabetes, asthma and autism, potentially saving their lives."
W.H.A.L.E. consists of one label; to be placed on the child's car seat as well as four decals placed in specific areas of the car that immediately alerts responders that the information is available. "Motor vehicle crashes are the leading cause of unintentional deaths to children," said Sheriff Guadagno. "These two decals and one label could result in a more efficient rescue effort by emergency personnel."
CentraState Healthcare Foundation funded the W.H.A.L.E. Program by providing the Sheriff's Office with $550 to purchase the stickers.
The identification program started in the early 1990's by Connie Day, a child caregiver from Virginia who wondered what would happen to the children in her care in the event of a car accident. The program is now nationally recognized and used in 34 states.
Parents will receive the information during the Sheriff's Office child seat installation program.
Local police departments will be educated about the W.H.A.L.E. Program through the Monmouth County Police Chiefs Association. 
/wp-content/uploads/2015/12/Monmouth-County-Sheriffs-Office.png
0
0
Monmouth County Sheriffs Office
/wp-content/uploads/2015/12/Monmouth-County-Sheriffs-Office.png
Monmouth County Sheriffs Office
2009-02-03 10:33:34
2014-12-03 08:50:39
SHERIFF'S OFFICE UNVEILS W.H.A.L.E. Program